Injection molding
Plastema is a company specializing in plastics processing for over 30 years. We manufacture different kind of elements for needs of various branches: from the household appliances industry to the electronics, electrotechnical and advertising industries.
We process not only mass materials (PP, PE), but also technical materials such as POM, PBT, PA (also with fillers), ABS, PS, PC, PC + ABS, PVC and WPC composites that enable injection of up to 70% of wood.
The knowledge and experience we have allow us to help our clients in selecting the right material for the targeted application.
Our company has solid and proven suppliers of raw materials, and our specialists take care of the material that we offer, so that it is always of the highest quality.
We offer a comprehensive kind of service. It means we support our Customers from the initial detail design, prototyping, mold manufacturing to the finished plastic parts production.
We have a modern, automated machine park thanks to which we can take care of the precision and repeatability of the elements we make. Each production process takes place under the watchful eye of a qualified and experienced team.
What we offer is:
production of finished products based on the injection molds entrusted to us by the customers,
project development and production of plastic elements based on molds made in our company for the needs of newly implemented projects.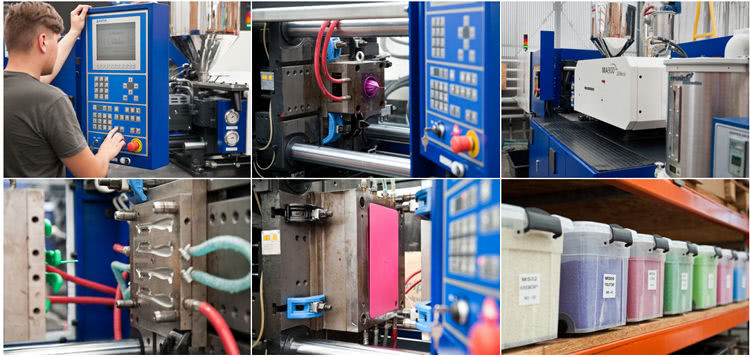 Our injection molding machines are equipped with peripheral devices (f.ex.: thermostats, dryers, plastic feeders, regulators of heated channels), and bimetallic screw systems (for processing of filled materials) and PVC injection units.
We have our own tool shop which allows us to perform inspections and current repairs of injection molds what makes the continuity of production possible.